Making the Case for 1.01: Joe Mixon
Making the case for Joe Mixon to be 1.01 is easy because he's better than everyone else. It's simple…unless it's not…or unless it's definitely not because he punched a woman in the face and it was captured on video. Now it's all muddy. He went and did something so dumb and reprehensible that people have to even write an article saying that he should be the 1.01. It should be clear when looking at analytics and game tape.. When I started saying this to leaguemates and some people in the dynasty community before the NFL Combine, I was looked at sideways…all because he did something stupid. He's got his supporters and I'm definitely not the only one, but it shouldn't be like this. This should NOT be a hot take at all based on his athletic ability, analytics, and game film. However, this is the world we live in and now I'm going to sell you on taking this guy 1.01, in spite of the fact that I would love you to pass on him so I can get him in EVERY league I play in. By the way, I've been saying he's going in the 1st round of  the NFL draft for a while now and I still believe that. He definitely won't be taken later than pick 50, but I digress. Ok…let's do this!
I'm going to hit on some tape and measurables first and then I'm going to go through some analytics. The analytics section is the mind blower, so read through it all. If you watch Mixon play, he is a mixture between Zeke Elliot and Leveon Bell. He's got Zeke's physical running style and ability to explode through a hole combined with Bell's patience and route running ability. He's a FANTASTIC inside runner and a great pass catcher. He doesn't have any holes in his game which means he'll be on the field all 3 downs. He's big, coming in at 6'1 228lbs. He ran had a 4.50 40 yard dash and had an adjusted speed score in the 91st percentile. He glides at times like Arian Foster. He's durable and doesn't have a ton of miles on him because he split with Samaje Perine at Oklahoma and missed a year due to suspension. Oh yeah, he also had a 97 yard kickoff return for a touchdown. There is nothing this guy can't do on a football field! He racked up over 2300 total yards this year (1274 rushing, 538 receiving, 519 return yards). Oh yeah…he had a 26 yard touchdown pass as well…I guess he was bored. Just go watch some more Mixon over at DraftBreakdown.com after the article. You'll enjoy it and might hate yourself for it, but you'll need to do it.
First things first, I'm going to be using some data that Graham Barfield has worked his ass off to give all of us over at FantasyGuru.com. The metric/article is called Yards Created and it's probably one of the most useful metric articles anyone has ever written about incoming rookie running backs. Essentially, he's charted every play that these running backs have been involved in and accounted for offensive line play, pass protection, forced missed tackles, types of runs and more. I applaud him and all of the time that he has put in to writing it. It's astounding and I implore everyone to give it a look. Graham, if you're reading this, which I'm sure you're probably not, because you're busy doing podcasts all over the place, (you should probably come on FakePigskin's Dynasty Zone and talk about this some more) we all thank you!
So, based on Graham's research, Joe Mixon is basically slathered up in grease like the deaf guy in Family Guy because nobody can touch Mixon when it comes to creating yards. Below is actually a better effort than what Texas Tech put forth when Mixon put up 263 rushing yards, 114 receiving yards, and 5 touchdowns against them this past year on October 22nd.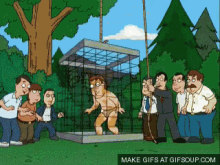 It's actually a little disturbing that he's a better prospect on the field than Zeke. What did I just say? Yup…he's a better prospect on the field than Zeke Elliot. The guy who led the league in rushing this year in the NFL? Yup. That guy. Joe Mixon annihilated every running back this year with a 6.75 yards created per attempt (yca). Leonard Fournette was at 5.85 yca. Seriously, that's not a typo! Last year, Zeke had 5.98 yca. I'm telling you that Joe Mixon was .77 better than Zeke (#Math). That's crazy people! Speaking of Zeke, I wonder who Joe Mixon would be comped to over at PlayerProfiler.com? Oh…right…Zeke. It gets better! How you ask? Ok. I'll bite. Joe Mixon isn't your typical outside runner in college. He might be the best inside zone runner to come into the league since…EVER? Mixon ran over 80% of his runs to the inside and came in at 7.32 yards/attempt on runs inside the tackles. That's fricking silly people. Zeke came in with a 5.98 yards/attempt on inside runs last year for reference. I keep going back to Zeke when I'm talking about Mixon because he's really the only player that holds a candle to Mixon analytically (FACT) and on tape (that's my opinion).
Let's keep it rolling here! One thing that Mixon did a lot of this year was run out of the shotgun (100% of the time). That might be a little concerning to me if the NFL wasn't moving towards running much more out of the shotgun, so it really isn't a big deal to me. Personally, I think it's a lot more difficult to run out of the shotgun than it is with a quarterback under center. Mixon came in at 6.75 yards created from under shotgun (it's his yards created and he had 100% of his attempts from the shotgun, but it had to be said because it's likely you forgot because you have the attention span of a squirrel) which is tops in the class. That is unfortunately only 2nd in the class. I know…what the hell right? Dalvin Cook, the guy who can't run a three cone and therefore must be bad at all things football related, comes in on top with a crazy 7.23 yca out of the shotgun. He's a bum, though. I digress.
If this guy could only catch, he'd be even better…but wait! He averaged 10.7 yards gained per route attempt this year! Is that bad for a running back? I'm not sure because it's first again. Ho hum. Go watch this guy catch. I think he's the 2nd best receiver out of the backfield after Christian McCaffrey in the class. Mixon can also make tacklers miss in a phone booth. He averaged .57 missed tackles forced per attempt, also 1st in the class. He's basically the valedictorian of Yards Created. Dalvin Cook (still a bum) came in 2nd with .495 and Leonard Fournette was at .469. Ok, I'm all done with the analytics gentlemen! If you've made it this far and your eyes haven't glazed over, congratulations!
Ok. So why would you pick Joe Mixon over Corey Davis, Leonard Fournette, Dalvin Cook, Mike Williams, and Christian McCaffrey? It's easy. You want to WIN. If you want to have an ethical stance and not take him, that's fine, but do so knowing that you might be passing on a Zeke/Leveon Bell hybrid. Mixon is a franchise changing player. Can you do that to yourself? I can't and I won't. I could tell you that Leonard Fournette can't catch and is injury prone and Dalvin Cook and Christian McCaffrey are smaller so they might have durability issues. I could tell you that Corey Davis played in the MAC and was scared to enter the NFL last year for some reason even though he would've been a 1st round pick. I could tell you that Mike Williams isn't special and could be this years' Laquan Treadwell because he can't create any separation and broke his neck. I don't even know if some of those things are true. To be honest, I'm just bringing them up to screw with your heads and make you second guess yourself and watch more tape.  I don't really need to do that though. Just watch some tape on Joe Mixon and look at the analytics. You should figure it out on your own, but if you don't and you decide to play it safe, just know that somebody isn't going to pass on him (Me and smart people). That decision will haunt you for years while they turn into a dynasty. But hey, at least you'll have your morals.