3 Must Draft Players in Fantasy Football Drafts
Three names stand out above the rest as Must Draft Players heading into 2017 fantasy football drafts. My goal will for all my drafts is to end up with at least two of these players, ideally all three. They are going in the single digit rounds and have the ability to weekly difference makers. Who am I targeting?
Devante Parker | WR | Miami Dolphins
The third year Miami Dolphins wide receiver is poised for a massive breakout this season and is a player i'm trying to get in as many places as possible. It has been a progression for Parker in his first two season in terms of targets, catches, and yards. This year in steps Jay Cutler to help the WR break out. Cutler has long been a guy that focuses on one main target and peppers that player with targets. Brandon Marshall and Alshon Jeffery excelled on the other end of passes from Cutler.
DeVante Parker bosses Ronald Darby. 72 yard reception. pic.twitter.com/psJGOfw6hg

— Josh Norris (@JoshNorris) August 24, 2017
The QB has already been singing the praises of Parker, comparing him to a faster Alshon Jeffery. The plays have shown on the field too. Parker and Cutler have shown a clear rapport and have connected for big plays on the field.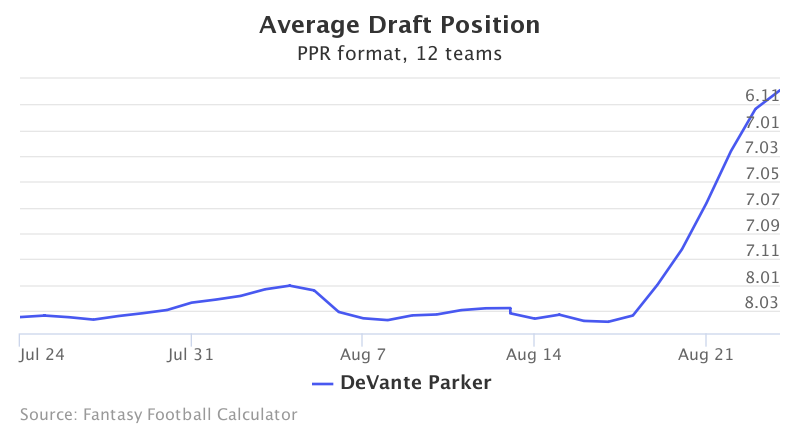 Im clearly not the only one on the Parker hype train. His ADP in PPR leagues has climbed from the early 8th round to the late 6th round. I'd be comfortable taking him as early as round 5 ahead of Julian Edelman, Willie Snead, and teammate Jarvis Landry.
The Green Bay Packers RB is one of my favorite targets heading into fantasy football drafts. He has the skills both as a runner and a pass catcher to be an elite fantasy producer. Per Yahoo's Brad Evans, "His 6.7 yards per touch in '16, which slotted No. 6 among eligible backs" he continued, "He ranked top-five among running backs in juke rate (RB3) – he forced 17 missed tackles alone against Chicago Week 15 – yards after contact per attempt (2.8, RB1) and breakaway run percentage (RB2)."
The primary back in an Aaron Rodgers led offense has a ton of upside. Montgomery can take advantage of that offense and should have plenty of opportunities to score TDs as this offense should reach the red zone a ton.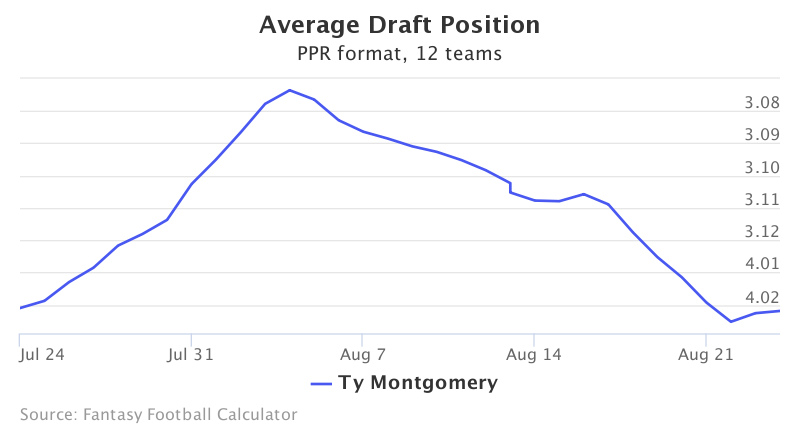 His ADP is starting to settle in a place that makes a ton of sense. He is going in the early 4th round. He makes a ton of sense if you start WR heavy or if you grab an elite RB early. His upside is a top 10 RB in all formats.
There are concerns with Montgomery who i currently dealing soft tissue leg injury. He has returned to practice however and is expected to play in Saturday's all important Week 3 preseason game. Jamaal Williams would likely be the guy if Montgomery falters or is injured, at least initially. Rodgers showed frustration last year with Montgomery in his rookie season. The often had Aaron Ripkowski in last season to block. Williams could find himself in the same predicament.
Dalvin Cook | RB | Minnesota Vikings
Dalvin Cook will be the best rookie running back this season. I feel like Cook has been my guy for some time now. Obviously I am not the only one feeling this way. His ADP has jumped a full two rounds, ahead of all the rookie RBs expect Leonard Fournette.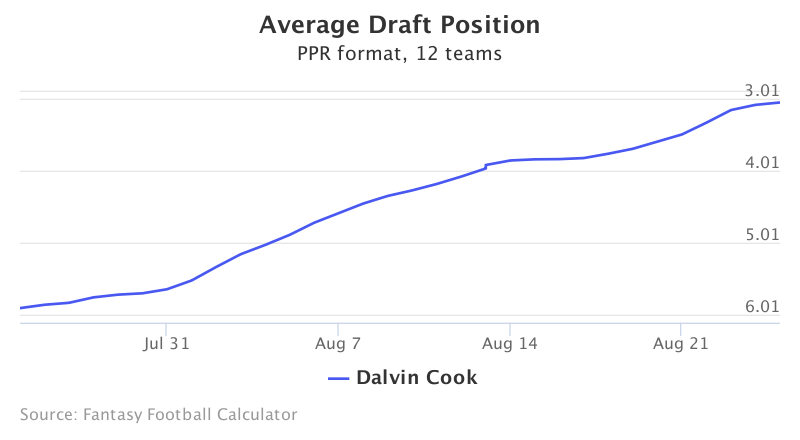 The Vikings coveted Cook, even after bringing in Latavius Murray this off-season. They traded up seven picks in Round 2 of the 2017 NFL Draft to select the RB out of Florida State. The aforementioned Murray has been battling the injury bug all summer. Even if he found a way to get healthy, he is a poor talent. One that would struggle behind this less than ideal offensive line.
Cook not only provides a dynamic runner who can make defenders miss even when his line fails him, but he can be explosive in the pass game. This should allow him to stay on the field for all three downs. Pass protection will be a must for Cook if he wants to be a guy that can approach the 300 touches I have him pegged for.
Seemingly every year a rookie RB finds a way to join the elite fantasy RB tier. Jordan Howard did it a year ago, Todd Gurley, Jeremy Hill and others have done it in previous seasons. This year has the potential to produce a handful of RBs that can vault into fantasy stardom including Joe Mixon, Christian McCaffery, Kareem Hunt and others. That said If I can pick only one RB to make the leap, Cook would be my pick.
Ideally I can land Cook in round 3 after landing two elite WRs. That said you will have to feel out your draft. It may make more sense to grab Cook in round 2 if you see a group of WRs you feel similar enough on.