1)   Brown Closing In On Title Shot-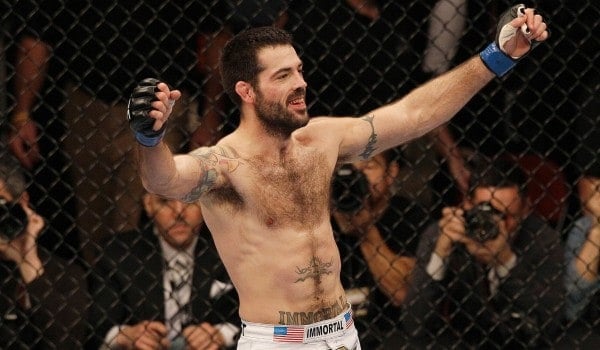 Don't look now but Matt Brown has the MMA community clamoring for the once journeyman fighter to fight for UFC gold. Brown dazzled in the UFC Fight Night 40 main-event earning a 3rd round technical knockout of Erick Silva in his home state of Ohio. Brown and Silva could have very well delivered the fight of the year this past Saturday night. Both men pushed the other to the brink, but if there is one thing we do know about Matt Brown it is that this is a man who will not blink and it showed against Erick Silva. Brown came back from some rough moments in the first and second rounds to eventually break down an incredibly durable Erick Silva. When discussing which fighters are granted title shots in the UFC, it is very similar to how college football teams are determined to compete in the BSC college championship game. Just winning isn't enough, if you want to fight for a world title you need to win with style points to boot. While Brown still hasn't beaten a top-10 talent during his seven fight winning streak, he has been racking up style points finishing five consecutive opponents with devastating barrages and unmatched tenacity. Brown may have had his coming out party Saturday night to MMA fans who are now starting to realize that this isn't the same fighter who lost four of five fights between 2010 and 2011. No, this is a scarier man who is starting to fight like he can't lose. Which is a scary proposition for the top-10 fighters at Welterweight who have to feel "The Immortal" creeping up behind them in the rankings. Matt Brown will fight a top-10, or even top-5 opponent his next time out and with a win there we could see Brown fighting for the world championship to kick off 2015. Even the staunchest Brown fan could not have predicted in three short years he would be in serious title discussion, but here he is. Matt Brown's career resurgence is truly one of the feel good stories in MMA today.
2)   Don't Write Off Silva Just Yet-
There is something really promising about Erick Silva that I still haven't been able to put my finger on even eight fights into his UFC career. If you were to tell me that if Silva lost to Brown in his first career head-liner, and third crack at a top opponent, I would have told you to give up on him as an eventual world title challenger. But somehow after his fight against Brown, I am still not ready to write him off just yet. Every time Silva loses, there seems to be a caveat that makes it hard to dismiss him as a world-class competitor.Against Jon Fitch, he simply jumped into the deep end of the division to soon against one of the best of the world. It was a minor setback that most people, including myself took positives from. Against Carlo Prater, it was just a silly disqualification loss because he was too aggressive in trying to finish the fight impressively. Again easy to overlook, even against Dong Hyun Kim he lost a fight he was clearly winning. He got caught by a fighter no one believed had the power to hurt him and he found out the hard way a solid punch from anyone in the division could end his night. Against Brown he proved that he is resilient, has an iron will and has the skills to scare anyone in the division with a quick finish. Fans came out talking almost as much about Erick Silva as they did Brown, fans were amazed a human being could take the shots he was taking and never stopped trying to win. Silva has obvious holes in his game but they are all fixable for the most part. His gas tank is an issue he will have to correct if he wants to make a run at a world title, but trust me you can't teach the toughness Erick Silva displayed against Brown. Silva is a gritty guy in his own right; he just fought a guy who is a bit grittier than he was. The 30-year-old Silva may never fight for a world title, but I still think there is more to him than he has shown us so far. I wouldn't write off the undeniably talented Brazilian just yet, but he has no more room for error going forward.
3)   Philippou & The Fight Game Fickleness-
It's incredible how quickly in the fight game fighter's fortunes can change. On top of the world one-day and on the chopping block the next. When Costas Philippou announced after his impressive win Saturday night that he was considering retirement leading up the bout, it just seemed nuts. I mean the guy just scored one of the most impressive knockouts of the night in a card full of impressive knockouts. Why would this guy want be thinking about retirement after knocking out one of the division's best strikers in Lorenz Larkin? Phillipou claimed it was just all the stress that comes along with this professional fighting thing and it didn't help that he was coming off of the first knockout defeat of his career. Philippou cracked the top-10 following five consecutive wins between 2011-2013, then back-to-back losses sent the New Yorker back to the drawing board. He decided he wanted to take another fight, and boy I am glad he did. That was Costas best performance in the UFC and while at 34-years-old he may never fight for Middleweight gold, he is still a top fighter in a loaded division. Philippou's story is just another example of how all the fickleness from fans, media, and even from the fighters themselves can be an emotionally draining experience for these athletes. MMA more than any other sport is all about momentum. Let Phillipou be proof to younger fighters that you are only one impressive performance away from recapturing lost momentum and starting a new climb up the hypothetical ladder.
4) "Detroit Superstar" More Than Just An Awesome Nickname-
Watching Daron Cruikshank during his time on the 15th season of the Ultimate Fighter, I figured he would have a modest UFC career just based off of his creative and unique fight style. I didn't expect him to actually make a run to the top of the 155-pound division by any means. But after his impressive head kick technical knockout of Erik Koch Saturday night, I'm starting to think Cruickshank may have a higher ceiling than I gave him credit for. While a lot of the talk following Koch and Crucikshank's clash is focusing on maybe Koch isn't as good as we originally thought, I'm not buying it. I think we all just undersold the "Detroit Superstar," and he now seems like a talent worth tracking in MMA's deepest division. In just seven UFC fights, Cruickshank has already tied the record for most head-kick knockouts in UFC history with three. He has a fan pleasing style and if he keeps knocking out proven guys like Koch, we may be talking about Cruikshank as a contender at 155-pounds in the not so distant future.
5)   Action Packed Fight Card-
With all the UFC events being ran in 2014 it's easy to overlook certain fight cards, which is sort of what happened with UFC Fight Night 40. Most fans weren't overly excited to watch a card that lacked marquee names and this card flew under the radar for the most part. Well to the credit of the 26-fighters on the card, all of them went out there and fought like they were trying to become marque names. This was most likely the card of the year so far in 2014, and with eight knockouts in 13 fights it won't be easy to top.While Silva and Brown came away as the action-stars of the card, there were a handful of fighters who delivered excitement Saturday night. If you missed the action I would suggest going back and watching every single fight on the card, they were all worth watching. With so much MMA today you rarely have cards that every fight delivers, which is exactly what UFC Fight Night 40, offered. These are the kind of cards that turn casual fans into hard-core fans; it was just an overall great night of fights. The people who showed up to the U.S Bank Arena in Cincinnati certainly got their money's worth.