1.)  Not Many Left For Minotauro-
If MMA had a true Hall Of Fame, then Antonio Rodrigo "Minotauro" Nogueira would undoubtedly be a first ballot shoe-in. Nogueira is the only man in history to hold both UFC and Pride Heavyweight world championships (although his UFC belt was of the interim variety). However, "Big Nog" has seen better days. Nogueira is as beloved of a figure in MMA as any other fighter in the sport today. "Minotauro" has created a loyal fan base over the years in large part due to his ability to overcome adversity and pull out the most improbable of wins throughout his storied career. But how much did those legendary battles against the likes of Mirko Cro Cop, Fedor Emelianenko, and Josh Barnett take out of Nogueira? He turns 38 years old in June and has been fighting professionally since 1999. It is hard to believe that Nogueria who is known for his durability, has been finished in all four of his UFC bouts by either knockout or submission.Which is incredible when you consider that he went the first 9 years, and 38 professional bouts of his career without ever being stopped in competition.  Clearly "Big Nog" is on his last legs as professional mixed martial artist, which is all the more reason to watch his main event showcase against Roy Nelson. If Roy Nelson walks in there and knocks out Nogueria in devastating fashion, I wouldn't be surprised if we see the all-time great call it a career and hang up his gloves immediately afterwards. Like with any sport legends it is important to cherish the final few moments of their careers. I believe Nogueira's fight with Nelson, has got to be one of the last times we see him enter the cage as a competitor. While the Nelson vs. Nogueria fight doesn't offer much in terms of title contention, it certainly offers a lot in terms of nostalgia.
2) Big Country, The People's Champion-
I will be honest with you, when I watched season 10 of TUF, I didn't think Roy Nelson would ever be the fan favorite that he has become. He seemed arrogant and a little full of himself, but looking back at it he was just being his normal unassuming self.Fans love Roy because he is everything a prized fighter shouldn't be. He isn't in good shape at all, and has actually turned his giant belly into his calling card. He shows up to fights with a mullet and a beard that kind of makes him look like an evil Santa Clause. But when the actual fighting starts, fans know Nelson is coming to take off people's heads right off. He has won all of his UFC bouts by knockout, five of 6 in the first round. And when he isn't putting the sports big men to sleep with his scary power, he is showing off why so many fans and experts consider his chin the best in the game today. Nelson has proven he is as durable as they come, and always delivers an exciting show win, lose or draw. Against Nogueira he is coming into the contest on a two fight-losing streak, and needs a statement win if he wants to claw his way back into title contention. With the UFC putting on more shows than ever before in 2014, Nelson has become very valuable to the promotion because he could consistently draw fans no matter what sort of card he is placed on. Nelson is a heavy favorite heading into his contest with MMA legend Anotnio Nogueira, can "Big Country" right his ship and show why so many fans love to watch him throw down?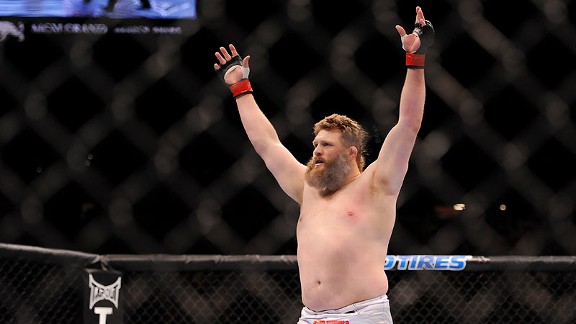 3) A Carpenter's Crossroads-
Clay Guida has been a UFC main stay since 2006, and at UFC Fight Night 39 he makes his 20th appearance in the Octagon. However Guida comes in during a career crossroads, dropping 3 of his last 4 bouts. And has only gone 1-1 since dropping to Featherweight in 2013. Sure those three loses are to elite fighters like Benson Henderson, Gray Maynard, and Chad Mendes. But to make matters worse for Clay he is coming off his first professional defeat via strikes in 44 career bouts after his loss to Chad Mendes this past August. If Guida loses to Tatsuya Kawajiri in the co-headliner, Guida's time in the UFC may be coming to an end. It's hard to believe that it was just in 2010-2011 that Clay Guida was one win away from fighting for the UFC Lightweight crown before losing a competitive decision to Benson Henderson. Guida rattled off consecutive wins over now current 155-pound champion Anthony Pettis, as well as top 10 contender Rafael Dos Anjos, and former Pride Lightweight champion Takanori Gomi.. Clearly Guida can still compete with the elite of the world at 145-pounds (and 155-pounds for that matter), but it's either now or never if he ever plans on making a run at a world championship. Guida has an army of adoring fans after having been part of some of the best fights in UFC history against Diego Sanchez, Tyson Griffin, and Roger Huerta, but that only buys fighters so much leeway before they become expandable. Guida needs a statement win in the worst way, can he impress against the incredibly underrated Tatsuya Kawajiri?
4) U.S Fans Re-Meet "Crusher"-
Sure this fight is taking place in Yas Island Abu Dhabi, but for U.S fans this is a chance to re-meet Tatsuya Kawajiri. Yes I am not including his official UFC debut. That is because he fought the unheralded Sean Soriano, and the show took place in Singapore with little U.S fanfare. The last time fans saw "The Crusher" fight stateside was when Kawajiri challenged for the Strikeforce Lightweight title against Gilbert Melendez in 2011. Melendez finished him in violent fashion within a round. Since then Kawajiri a long time 155-pounder has dropped to 145-pounds. He has rattled off six consecutive victories, five via stoppage, including his UFC debut. Now Tatsuya gets a chance to fight an established name in the U.S like Clay Guida, and show U.S fans he is as good as he has been advertised over the past decade. Like Guida, Kawajiri's chance to capture a world title is now or never. Can "The Crusher" show fans why so many "hard core" fans were excited to see him in the Octagon?
5. New York's Newest Star?-
While UFC Middleweight Champion Chris Weidman may get most of the headlines, the New York MMA scene has a few other interesting players coming up the ranks. Costa Philippou and Dennis Bermudez are among the top 10 of their weight classes respectably, but I have to say watch out for 10-0 Ryan LaFlare. He is already 3-0 in the UFC and is quietly creeping into a fight with a top 10 opponent if he can get a win in Abu Dhabi. He will have his hands full with John "Doomsday" Howard, in a bout scheduled for the main card of UFC Fight Night 39. I don't normally consider myself a "talent scout" but there is a ton to like about the 30-year old New Yorker. He is huge for the 170-pound weight class, and has a way of always winning scrambles. Plus he is athletic, and uses his length well in the stand up. Unlike a lot of MMA fighters today, he uses all facets of the game to keep opponents off balance and always guessing. I don't know how high his ceiling is, but I do think we will see him in some big fights in the not so distant future.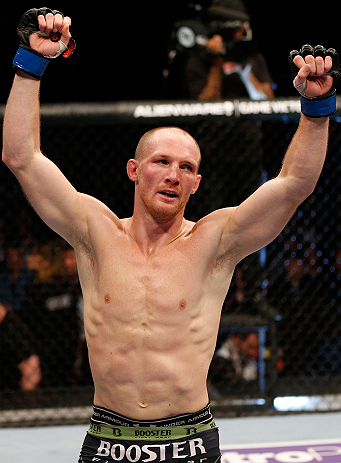 Picks For The Card
Main Card-
Nelson over Nogueiea
Guida over Kawajiri
LaFlare over Howard
Dariush over Nijem
Prelims-
Rosholt over Omielanczuk
Yahya over Bedford
Leites over Smith
Craig over Camozzi
Alers over Omer