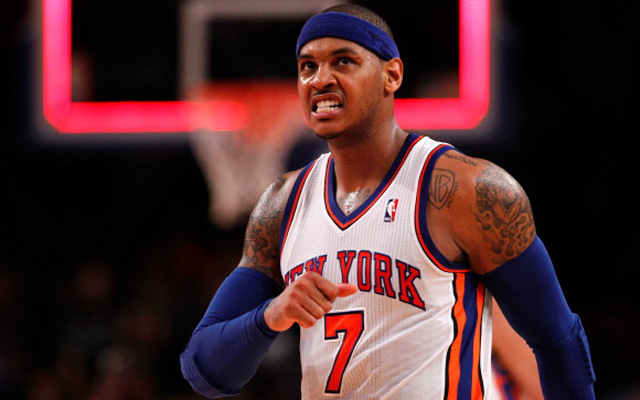 Wednesday night basketball is a refreshing change from early in the week: finally we get as much basketball as we can handle. Playing daily fantasy hoops on a Wednesday is like walking into a Baskin Robbins, frequently referred to as 31 flavors, and realizing there are actually 3,100. When looking at the names available for you to play, it is hard not to wish you could start twice the amount of players allowed.
Somehow, someway we have to limit ourselves to just eight guys. In doing so, I always start with looking for the cheap players. Once you've filled out the guys who will save you money, you can see just how much you really have left to allot to superstars. To be honest, the value players were much easier to spot tonight than the expensive ones. So without further ado, here are the guys I will have in my lineup tonight and ones I will be throwing out from my list of possibilities. All prices are based on my favorite daily site (Draftkings).
Players I Love:
Carmelo Anthony – $9,900 – I found an interesting stat on Carmelo so I'm going to roll with the trends. In Melo's last four games against Atlanta, his scoring output  is 36, 39, 42, 40. While the over/under of other games say look elsewhere, Atlanta hasn't changed much since last season. The acquisition of Paul Millsap as opposed to Josh Smith isn't exactly a defensive upgrade. Don't argue with the results, start the guy.
Jordan Hill – $4,100 – Think Jordan Hill's 21 point, 11 rebound game on Tuesday was a fluke? Maybe it was, but the Lakers get Denver on Wednesday. Of course, Denver is well known for giving up big points to big men. Even if you don't believe he won't go as crazy as last night, his value and match up combination is too good to pass.
Terrence Jones – $3,000 – A few minutes ago, Terrence Jones was announced as a starter for the Rockets. Houston/Philadelphia is the highest over/under of the night at 210…….well at least it was. Just seconds ago, James Harden was declared inactive. Someone is going to have to pick up his scoring and I think Jones at least gets some of it. At the absolute cheapest a player can be, Jones is worth a shot.
Players I Won't Use:
Rudy Gay – $8,000 – Many times when a player faces his former team, he is automatically a must start. Unfortunately for Gay, his former team is the defensive-minded Memphis Grizzlies. One thing Gay has going for him is the Grizzlies have not been good at defending his sweet spots. Memphis ranks 7th worst defending shots from 10-14 ft (allowing 46.7% FG) and 8th worst from 15-19 ft (allowing 42.5% FG). Either way, Gay has struggled with his FG% (35.6) and isn't likely to get it going tonight. Avoid.
All Utah Jazz besides Gordon Hayward – Utah is an underdog at home to the Pelicans. This game is the second lowest over/under of the night. New Orleans has actually been a below average defensive team, ranking 17th in defensive rating and 25th in opposing FG%. Utah just hasn't had offensive flow and is a crap shoot from night to night besides Hayward. Anthony Davis is actually an excellent defender inside. Usually Vegas is right, so I'm just going to trust them here and only consider Utah's go-to guy.