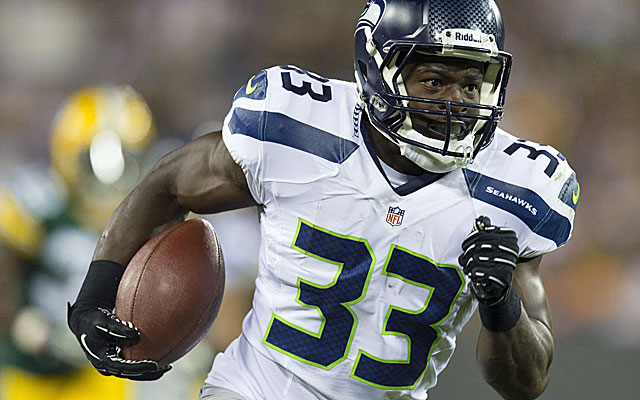 "When Christine Michael gets his chance regular season '14, provided he's healthy, he'll show he's the most gifted RB drafted in the past 5 years."
This is not a post from a Seattle Seahawks fan message board. Nor is it from an interview with Mary Michael, Christine's mom. The quote can be attributed to Louis Riddick, current NFL Analyst and former NFL player, scout and Director of Pro Personnel.
This is not the first time a seemingly outrageous statement has been made about the second year running back. Larry Jackson, Texas A&M's Director of Football Sports Performance and a former member of Oklahoma's strength and conditioning staff, has said on more than one occasion that Michael's athletic explosiveness is on par with that of Adrian Peterson. Current Denver defensive end Von Miller, a college teammate of Michael's, once referred to Michael as a "hybrid, mutant running back who runs like a 210 pound rabbit on steroids with the speed of a cheetah." (Note: with a quote like that, it should come as no surprise that not long after making such statement, Miller was forced to serve a six game suspension for violating the NFL's drug policy).
Those are all pretty bold statements and extremely high praise for a player that has only seen carries in three regular season games, rushing for 79 yards on 18 carries.
And before I go any further…..the correct pronunciation is "Chris-Tin". Or maybe it's "Kristen." Whatever. His momma called him "Christine." Imma call him "Christine."
So, why all the hype? Dynasty owners that rostered Michael before or during last season are convinced that he is a future star in this league. Many talent evaluators, coaches, and players feel the same way. But still, as with any unproven player in this league, there are questions. And below, I will attempt to answer the "Who?", "What?", "How?" and "When?" questions about Christine Michael.
The Who
Michael signed with Texas A&M after a stellar high school career at West Brook Senior High School in Beaumont, Texas. He was rated by Rivals.com as the nation's third best high school running back in the 2009 class – behind only Bryce Brown and Trent Richardson. Michael was an instant star with the Aggies, rushing for 844 yards and 10 touchdowns in his first year on campus, and he was named the Big 12 Freshman of the Year. Serious injuries – a broken leg in 2010 and a torn ACL in 2011 – prematurely ended his sophomore and junior seasons, but he still had amassed almost 2,400 rushing yards heading into his final year in College Station.
With such skill and stats, one would assume that Michael would have a monster senior season — not so much. Pro-style Head Coach Mike Sherman was fired after the 2011 season and was replaced by spread-focused Kevin Sumlin. 2012 was also the year that the college football world was introduced to Johnny Manziel – and to a lesser extent, Mike Evans. Michael was no longer the centerpiece of the A&M offense. This was Johnny Football's team and everyone else was just along for the ride. And it turned out to be a crowded ride. Sharing the backfield with Ben Malena (now with the Dallas Cowboys) and freshman Trey Williams, Michael started just two games and garnered only 88 carries (compared to 138 for Malena and 65 for Williams).
Still, Michael's impressive physical attributes continued to intrigue NFL teams. He measured 5'10" at the Combine, weighed in at 230 pounds and ran a 4.54 forty yard dash. When asked about Michael, NFL.com's Mike Mayock stated that "he's the most gifted tailback in this class. He's had off-field issues and got in Kevin Sumlin's doghouse, which is why he slipped. But if he stays straight, boy is he gifted." Despite already having Marshawn Lynch and Robert Turbin on the roster, the Seahawks drafted Michael with the 62nd pick in the 2013 Draft.
The What
"The What" here is the Seahawks backfield. Lynch has obviously been one of Seattle's superstars during the team's rise from a 7-9 team in 2011 to a Super Bowl champion two seasons later. He has exceeded 1,200 rushing yards and 11 touchdowns in each of the three previous seasons. Lynch is 28 years old, though, and has as much wear and tear on his body as any back in the league, after more than 1,600 carries over the past seven years. Lynch's backup last year was not Michael, but instead Turbin, who saw carries in 15 of the Seattle's 16 regular season games and all three of their postseason wins. He rushed for 264 yards on 77 carries but did not score a touchdown and neither his 3.4 yards per carry nor his long run of 15 yards impressed the Seahawks coaching staff. Michael was the fifth back taken in the 2013 class and while Giovani Bernard, Le'Veon Bell, Montee Ball and Eddie Lacy were all having successful rookie seasons, he was riding the bench. Michael starred in a couple of preseason games – 16 carries for 89 yards against Denver and 11 carries for 97 yards including a 43 yard touchdown run against Green Bay – but that was pretty much the extent of his playing time in 2013.
The How
So how will Michael get on the field? Well, it may not be as difficult as one might think. Turbin is a decent back, but in no way can he match the physical attributes of Michael. Also, as of now, Lynch has not yet reported to training camp. While not likely to be a lengthy absence, one never knows – especially with Lynch. Even with Lynch back in camp and manning his usual spot of RB1, the Seattle coaching staff has stated that while there won't necessarily be a "running back-by-committee" approach, Lynch will definitely see less carries than he has in the past.
ADPs of recent mock and actual drafts exemplify just how fantasy footballers are feeling about the situation. It seems that only a month or two ago, Lynch was being drafted in everyone's top ten. However, according to myfantasyleague.com, for drafts held from July 1st – July 15th, Lynch's ADP is 24th in redraft formats and 30th in dynasty formats. Meanwhile, the fantasy football community – especially those that play the dynasty format – continues to be fascinated by Michael. In the 2014 Fakepigskin.com Draft Guide, composite rankings for running backs in a dynasty format have Michael at 13 and Lynch at 15.
At a minimum, one could certainly make the case that Michael is the top handcuff back in fantasy football this season, joining Knile Davis as a must-own in any league. Head Coach Pete Carroll and Offensive Coordinator Darrell Bevell have made it clear that Michael is too good not to play. How much he plays is certainly a question, but he will play. From a simple perspective, it would not be at all surprising for last year's roles and statistics to be reversed – with Michael receiving 77 carries and Turbin only getting 18. And if that is the case, you should certainly expect more than 264 yards from Michael.
The When
2014 will likely be the end of Lynch's stay in Seattle. He is due $5.5 million in 2015 and there is wide speculation that the team will release him after this season. According to Overthecap.com, Lynch would save the Seahawks $7.5 million if he were to be released. All signs point to a huge payout and contract extension for quarterback Russell Wilson – particularly after Colin Kaepernick's recent $126 million deal. And then there is the potential holdout situation. Lynch may hold out a day, he may hold out a month. With him, all bets are off. One thing seems certain, however. The Seahawks do not appear ready to give Lynch everything he is wanting. Their confidence in Michael's potential certainly plays into that attitude.
If you are a dynasty owner, you should bet on Michael – who won't even turn 24 until November – seeing the field a good bit in 2014 (and probably turning into a star if Lynch were to continue to holdout or get injured) and being the full-time starter for the Seahawks in 2015. Let's face it – as good as he has been and will likely continue to be for another couple of years, Lynch can be a pain in the neck. From the threats of retirement, to holdouts, to not talking to the media – he has worn out his welcome with many in and around the Seattle organization. From the financial side of it – combined with the overwhelming potential of Michael – it seems almost a no-brainer that Lynch will be released after this year.
The Final Question
As a Dynasty owner, should you do everything you can to obtain Christine Michael? YES, YES, YES!!!
He is young.
He is an elite talent.
He will VERY LIKELY soon be the starting running back on an elite football team that excels at running the football. If you are already a Michael owner, the wait will be over soon enough. It won't be long until he will be helping your team win championships – just like he will probably be doing for the Seattle Seahawks.