1)   Fans May Be Underestimating Fabricio Werdum-
The closer we get to UFC on FOX 11, the more I get the feeling fans may be writing off Fabricio Werdum and not giving the man his due. Sure I can see why he would be the underdog against the surging Travis Browne, but that also doesn't mean he's not an elite Heavyweight. He is without a doubt a top five Heavyweight, and one who poses problems to any other fighter in the division. I would even go as far as to argue that he has had the most successful MMA career out of any other Brazilian Jujitsu champion to ever try MMA. Sure fans can make the argument that Demian Maia or Ronaldo "Jacare" Souza have had better careers, but for my money Fabrcio Werdum has left the biggest mark on MMA out of the three. Aside from being the first person to deliver a real loss to the legendary Fedor Emelianenko, Werdum has also defeated Antonio Rodrgio Nogueira, Antonio Silva, Alistair Overeem, and Roy Nelson among others during his 12-year career. Not only is his resume impressive, but also what really helps separate Werdum from other BJJ world champions is the improvement with his stand up. Werdum is fearless with his arsenal when standing because he isn't afraid of being taken down, because of how good he is off his back. It's rare you see Heavyweights try some of the techniques that Fabricio Werdum attempts, but it is also rare you see a heavyweight with the guard of Werdum.  Werdum is a special talent, and really should never be counted out of a fight against any Heavyweight on the planet. He is 36 years old, but hasn't taken much damage in his career, so his age is a little misleading. Werdum is one victory away from challenging Cain Velasquez for the world title, can he prove the doubters wrong and upset Travis "Hapa" Browne?
2)   Is Travis Browne The Most Athletic Heavyweight In MMA? –
Browne's meteoric rise up the Heavyweight rankings can only be described as scary. When Travis win's he's not letting guys off the hook, he's ending it violently and very quickly.In his UFC career six of his seven victories has ended by knockout in the opening five minutes. What's really scary is that he seems to be getting better. Look no further than his 2013 campaign where he knocked out proven Heavyweights Gabriel Gonzaga, Alistair Overeem, and Josh Barnett in a combined 6:29 seconds. What really makes Browne special is his athleticism. In MMA, there aren't many Heavyweights that are 6'7 250-pounds and are as fluid on the feet as "Hapa" is. In my opinion with Daniel Cormier making the full time move to 205-pounds, Browne is most athletic heavyweight on the UFC roster. Browne now gets an opportunity to become a household name if he can defeat Fabricio Werdum impressively during the FOX broadcasted main-event with the nation watching. Can Browne pick up in 2014 where 2013 left off? If he does than he will be the number one contender and challenge Cain Velasquez for the title later in 2014.
3)   The Rousey Redemption Trail-
Let me be clear, both Miesha Tate and Liz Carmouche are certainly top 10 woman at 135-pounds. Unfortunately for them, that isn't all they have in common. MMA's first lady, Ronda Rousey, has already soundly beaten both women in 2013. Now they both find themselves on the quest for a rematch that certainly won't come easy for either lady. Tate has already lost to Rousey twice in two years, and Carmouche has gone only 1-1 since the loss to Rousey. Both women were clever enough to market themselves correctly with the extra spotlight that comes along with fighting Rousey, and as a result each have developed a strong fan base. Which explains why their match up is the co-main-event of a Fox broadcast, over established men fighters such as Donald Cerrone, Rafael dos Anjos, Thiago Alves, Edson Barboza, and Jorge Masvidal. Aside from their name value, the UFC made this the co-main-event because both women are never in boring fights. With both women coming in on losses, this fight is a must win for both ladies, and trust me they will fight like it is. If either Carmouche, or Tate, plans on challenging for the UFC Bantamweight championship again anytime soon, this win is essential. I'm not sure who wins here, but I am sure when "Cupcake" takes on "Girl-Rilla," the real winners are the fans tuning in. These ladies don't know how to do anything else other than being apart of fantastic fights.
4)   A Kick Boxers Delight- 
When Edson Barboza steps in against Donald "Cowboy" Cerrone at UFC on FOX 11, I am fairly confident we will see a kickboxing match contested inside an octagon with 4-ounce gloves. While Barboza and Cerrone are capable of being well-rounded mixed martial artists, neither ever turns down a chance to stand and trade with a willing opponent. While this fight may not have a ton to do with rankings, it is the fight most MMA fans are looking forward to on the card because of the interesting style clash. Sometimes it feels like Donald Cerrone fights to earn some extra bonus money from the UFC, and not as much to win. Sure he does win more often than he doesn't, but it sure feels like he cares more about entertaining and collecting bonus checks than guaranteeing a victory and moving up the rankings. That is why "Cowboy" has a legion of adoring fans, and also why he is one Dana White's personal favorite fighters and is often compensated like it. Against Barobza he is fighting a man who is known for crippling opponents with vicious kicks to their legs. If you have a friend who isn't quite sold on MMA, and is watching it for the first time Saturday night, make sure this is the fight he sees. These two men are explosive athletes who are most likely going to be putting on a show for the fans around the country. It may not be a pure MMA fight, but it will be a hell of a stand up brawl. Which hey, we can all use sometimes to get our blood pumping right?
5)   Fight Game Politics-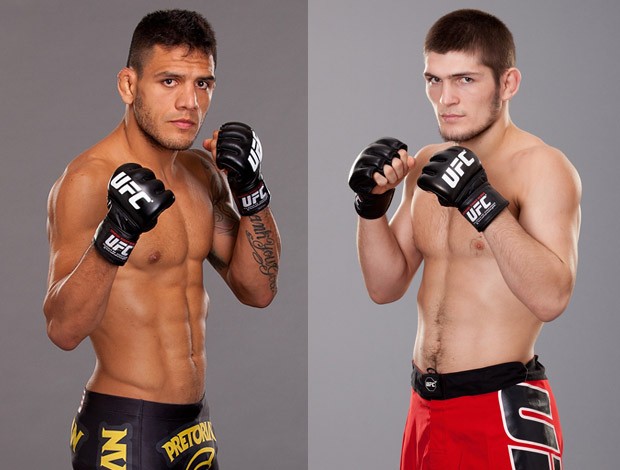 MMA has a funny way of doing business that every fan may not understand. Just because a fight is scheduled to be a co-main-event or on the main card, over another fight, doesn't mean it holds more significance. It just means that chances are it's going to be more exciting, which is what the UFC wants in order to attract new fans. I say this because despite being the featured prelim of the night, Rafael Dos Anjos taking on Khabib Nurmagomedov, is the fight with the most title implications of the evening aside from the headliner. Both Lightweights come in on five fights UFC win streaks, and are both ranked inside the UFC's top 10. The winner of this fight could find themselves in a number one contender bout to close out 2014. If title implications determined where fights are placed on the card, this fight would be co-main-event, but that isn't how the fight game works. Instead it is buried underneath fights with less importance like Tate-Carmouche, Barboza-Cerrone-, and Romero-Tavares, because those fights should be more entertaining. If you really want to see how two of the best 155-pounders on the planet look, tune into the Foxsports1 prelims and watch Dos Anjos take on Nurmagomedov. Entertainment is great and all, but there's nothing like seeing two of the best in the planet have it out to see who is the better man. Now that's substance.
Fight Picks For The Card-
Main Card-
Travis Browne over Fabricio Werdum
Miesha Tate over Liz Carmouche
Donald Cerrone over Edson Barboza
Brad Tavares over Yoel Romero Palacio
Prelims
Khabib Nurmagomedov over Rafael Dos Anjos
Thiago Alves over Seth Baczynski
Jorge Masvidal over Pat Healy
Estevan Payan over Alex White
Caio Magalhaes over Luke Zachrich
Jordan Mein over Hernani Perpetuo
Dustin Ortiz over Ray Borg
Chas Skelly over Mirsad Bektic
Derrick Lewis over Jack May
Overall Record Since UFC Fight Night 39
15-5