ONE PLAY…Crabtree went from being an absolute disaster to…still being NOT IDEAL!  With the basic benchmark of 13 points, Crabtree fell just under at 11.4 points. If not for an extra 3 chances because of penalties, it would have been emphatic, but as it stands, it's just correct…but you know what…I'll take it! So now that I sit at 5-1 through the season, what am I supposed to do with myself? Last week I said Cooper would outplay Crabtree. I said that Melvin Gordon and the Packers wide receivers were too easy to pick. Fish in a barrel. The only thing I missed on last week were my replacements and Derek Carr. NOT IDEAL…but we can't all be perfect…except Carson Wentz. He's a damn angel. Don't panic! I'm not picking him! He does have something in common with the next victim of NOT IDEAL though. Here is your hint. The Cleveland Browns decided they didn't like 2 quarterbacks and traded out of a draft slot so another team could take one. DING DING DING. This week…Deshaun Watson is NOT IDEAL!
But first…here is a recap:
Crabtree wasn't good except one play. Amari was awesome. Carr was awesome (whoops). My replacements weren't good. Marqise Lee finished with 11.2 points but other than that it was garbage. Eric Decker went missing and Tyler Lockett got Powerbombed twice. That's it! NOT IDEAL!
Ok…I'm just going to start off by saying how much I do like Deshaun Watson. I like him a lot. There. I said it. I also love Carson Wentz. As an Eagles fan, I was angry, confused, sad, and just baffled when Cleveland said Wentz wasn't a top 20 quarterback in the league and that's why they traded the 2nd pick. I thank them for there overall ineptitude. If you want to watch more of Carson Wentz's brilliance, click here.
Houston thanks you as well. As does Bill O'Brien, who may get to keep his job after finally getting a quarterback. I feel bad for Cleveland fans. These two quarterbacks will haunt their dreams for the next 10 years. NOT IDEAL! Moving on…Watson's development has been amazing so far, but…Check out this doozy from ESPN.
That's essentially what I'm basing this entire article around. ESPN saved me some time on that one. I can't point to a lot of past performance for Watson because he doesn't have a big track record. I can point to what Seattle has done against rookie quarterbacks. I can point to a Seattle defense that looks like it's trending in the right direction. I can point to the fact that against Jacksonville in week 1, Watson only went 12-23 with 102 yards with 1 td and 1 interception against a Seattle deciple, Dan Quinn. Watson also took 4 sacks. NOT IDEAL.
Will the trend continue? I wouldn't bet against it, especially knowing that you likely added Watson off of waivers or drafted him to be a back up. Rookie quarterbacks against Seattle tend to do about as well as the Cleveland Browns do evaluating quarterbacks. NOT IDEAL! I have Watson right around the 15 range as far as quarterback scoring is concerned this week with players like Andy Dalton, Philip Rivers, and Case Keenum (if Stefon Diggs plays) ahead of Watson this week. I know it's going to be tough to sit Watson for any of these quarterbacks, but they all much better match ups. I'm also not sure what effect, if any, Duane Brown returning at Left Tackle will have for the Texans Offensive Line. If I'm Seattle, I'd probably attack him early and often, knowing that he's rusty. Watson is just due to lay a big stinker.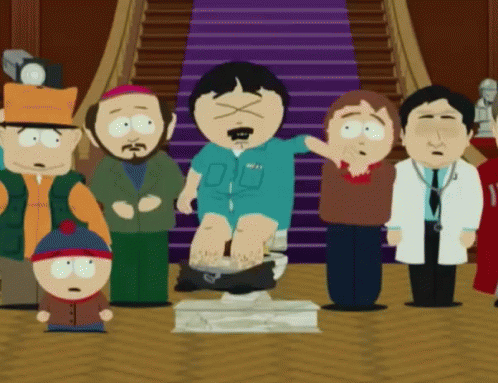 As for Watson's overall stat line, I'm going to predict 195 passing yards, 1 touchdown, 2 interceptions, and less than 20 rushing yards along with a 3+ sacks taken. That's going to be less than 14 points in most leagues. NOT IDEAL! In order for this prediction to be correct, Watson needs to fall outside the top 12 quarterback options. I don't know if he gets 14 points, but I'll say he gets less than 18 points in most leagues. NOT IDEAL Folks! You know who will be happy about this though? Cleveland…and then they'll look at their quarterback situation again and probably cry themselves to sleep at night. They are truly the Factory of Sadness.
Replacements: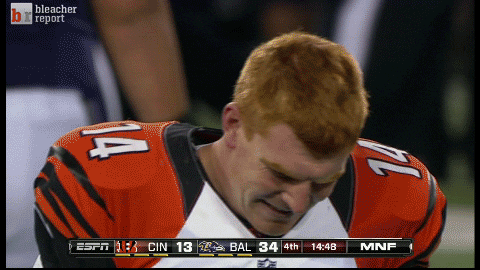 Andy Dalton vs Indianapolis Colts

Man…he was horrible last week! There were actually 2 things worse than Andy Dalton last week for the Bengals. The first is the baffling lack of Joe Mixon usage. Stop it you morons. Give him the ball! The second was the offensive line play. Wowza. By the time the last play for the Bengals rolled around, Andy Dalton was so mentally battered he literally through an uncatchable ball away on fourth down. I have you psyched about using him now, don't I?!?! NOT IDEAL! Well…Dalton plays the Colts this week! HOORAY! Blake Bortles put up over 20 fantasy points against them and 330 yards. There. You just forgot everything I said before that. Start Andy Dalton.
Philip Rivers at New England Patriots

He's been good this year. Not great. He's had one stinker against Kansas City. He'll have to throw the ball to keep up against the Patriots, so he's got a decent floor of at least 250 yards and 2 touchdowns. He might throw an interception or two, but the chance for a very good week is there.
Case Keenum at Cleveland Browns

If Diggs is back this week, he should have a very good stat line against Cleveland. We came full circle here and are back talking about how Cleveland is just miserable. It's almost like I know what I'm doing or something…weird. Anyway, if Diggs is back this week, Keenum should have a field day against the Browns.
That's it for this installment of NOT IDEAL! Give me a follow on twitter @DynastyInfidel. I'll be having knee surgery this Friday, so I'm not sure if I'll be able to get an article all the way done. NOT IDEAL. If not, I'll put some things out on twitter. Be sure to follow!