1)   Tim Kennedy Isn't A Man To Overlook-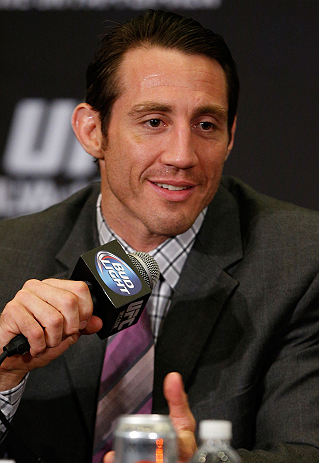 Tim Kennedy is a lot better than a lot of fans and observers gave him credit for, including this writer. I always knew Tim was a no-nonsense kind of competitor, but did I really think he was among the best ten 185-pounders in the world? No, I did not. Kennedy went out there on The Ultimate Fighter and clearly won four of five rounds against one of the worlds best Middleweights, leaving no doubt where he stands in the divisional pecking order. I think Dana White summed up the fight between Michael and Tim best when he stated, "last night was more about what Kennedy did than what Bisping didn't." That's exactly the right way to describe this match up; Kennedy never let Bisping get comfortable with his strikes. And he pressured him for the better part of 25 minutes, clearly being the one aggressor in the fight. Kennedy caught some flack from fans and fighters for his performance; none of the criticism I thought was warranted. Kennedy relied on his heavy clubbing right hands while standing, and a suffocating top game when on the mat. In fact we have never seen Bisping look so defenseless on the gorund, Kennedy mounted him on several occasions through out the fight, although he never did take advantage and unleashed big shots. Either way, Kennedy put himself a fight or two away from a world title shot. After two failed bids to capture the Strkeforce world title, I honestly never thought we would be seriously discussing title contention for Kennedy ever again. But if Tim proved one thing Wednesday night it's that at 34-years old, he is better than he has ever been. I still doubt Kennedy has what it takes to beat the very top of the division, but he's already proved me wrong once. I wouldn't be surprised if he did it again. Good job Mr. Kennedy, and congratulations on the biggest win of your career.
2) Where Does "The Count" Go From Here? 
Michael Bisping has been an elite 185-pounder since he dropped down to the weight class in 2008, but all good things must come to an end. I am not saying he isn't talented anymore after a single loss to a tough Tim Kennedy, but I am saying he's seen better days. Bisping's title aspirations could have very well been derailed permanently after Wednesday night's The Ultimate Fighter loss. While maybe I am writing him off to soon, I have a strong feeling even Michael himself knows what the Kennedy loss means for his career and legacy. I still think Michael can beat at least 80 percent of the UFC's current Middleweight roster, but as far as a world title goes, I think the chance has passed him by. I am not suggesting he should retiree or walk away by any means. But I am suggesting that instead of fighting hungry contenders fight in and fight out, maybe he should just take place in fights the fans want to see him in. Michael Bisping is still one of the bigger names in the UFC, so he can still make a comfortable living competing for them, but at this point a world title fight may never be in his cards so he should plan accordingly. It's a sad reality to accept since Bisping has been on the cusp of a title shot since 2008, and now in 2014 his door may have finally been closed for good. Again maybe I am pressing the panic button to early. After all Bisping could be one huge statement win and an injury to the number 1 contender away from fighting for the belt, but chances are Kennedy ended the last run he had in him. Bisping will most likely go down in history with the legacy he didn't want, most wins ever for a fighter who never fought for a world championship. It's a shame but that's the fight game for you, there aren't many happy endings.
3)   Cote, An Old Dog Who Learned New Tricks-
Patrick Cote has been a professional mixed martial artist since 2002, and he made his UFC debut in the UFC in 2004. So needless to say, he's been around. When you've been in the sport that long writers and fans begin to develop reputations for you. Patrick has always been the guy who could get hit by a baseball bat and still be standing there ready to fight. Also let's not forget about his undeniable knockout power. But everyone knew Patrick couldn't wrestle very well, and the ground game was his weakness. Against Kyle Noke, Cote proved that even at 34 years old, he is still adding new wrinkles to his game. Cote showed off why his chin is held in such high regards as he survived some big knees from his Australian opponent. But more importantly the Canadian also showed that he is still evolving as a fighter as he utilized takedowns to win a judges decision.What was most impressive about that is that Kyle Noke, is most well known for his grappling. So Cote went after his opponent where he is strongest, and still pulled out the win. For years fans knew what to expect from "The Predator," and for once Cote showed he has more to his game than what us fans know about. I could honestly say I've never been more impressed by Cote, which isn't to say Noke fought poorly. Both men fought to win, but it was Cote's versatility that earned him a hard fought and well earned victory.After Wednesday night's performance, I wonder what Cote's career would have looked like if he dropped to 170-pounds when he was in his prime, and not this late in his career. Either way, Cote is relevant again in the Welterweight division, and honestly the man has paid his dues and earned it. If we can take one thing from his fight with Noke it's that, even as 12-year veteran of the sport, he is still evolving.
4)   Poirier Has A Flair For The Dramatics-
Dustin Poirier and Akira Corassani set the tone for their fight during the weight-in, when both men had to be separated after getting physical with one another. That hostility carried over into the fight, where Akira almost pulled off the upset wobbling the heavy favorite Poirier early in the first, before eventually sub coming to second round punches in a exciting scrap. Dustin had very little to gain by beating the massive underdog Akira, but he did prove why fans should always want to watch him fight. He isn't afraid to get into people's faces, and his fights are usually pretty compelling affairs. In other words, Dustin can talk crap, and back it up. Poirier has now won three straight fights, two by stoppage, and is two or three wins away from a world title shot. At only 25 years old, the sky is the limit for the Louisiana native. I just hope that all of his fights going forward carry the same hostility that this one against Akira did.
5) TUF Nations Champs May Be Better Than Expected-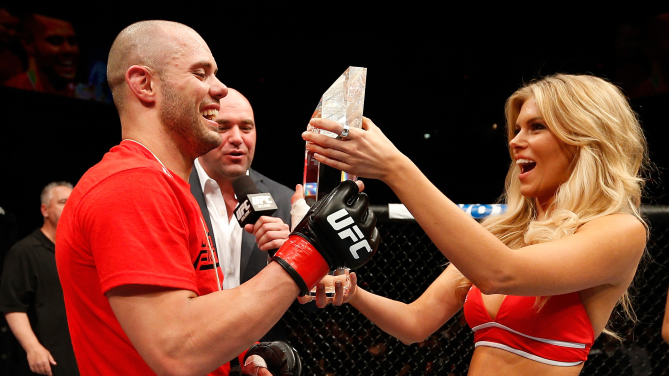 Let me start by stating that I didn't watch much of "The Ultimate Fighter Nations" so Wednesday night was my first good look at both tournament champions. I will admit both winners are better prospects than I imagined they would be. Chad Laprise won at 170-pounds, but has already stated he intends to drop to his natural weight class of 155-pounds. Elias Theodorou won the 185-pound tournament bracket. What stood out to me most is that both fighters already have something special about them that will help distinguish them from the rest of the division. For Laprise it is his very fluid stand up, that was on full display against Oliver Aubin-Mercier. He was very sharp, crisp, and technical when the fight was contested standing. I am not quite sure how he will match up against a high level wrestler; since Aubin-Mercier did have some success landing takedowns. But to Larpise's credit, he did prove once he gets taken down, he is very good at finding his way back to his feet, which will be a very important tool at Lightweight. Elias Theodorou on the other hand, is a very big and physically imposing Middleweight, who knows how to use his size and strength very well.  I am not sure how he will match up against a guy he can't just out muscle, but he did show that he knows how to be a "front runner," which is important in it's own way for his style. I went in not expecting much from either "Ultimate Fighter" winner, but instead what I got was proof that there is strong talent all over the world that is waiting to be discovered. As far as who I think will have a better UFC career, at the moment I'm slightly leaning towards Theodorou, but I think both men will be tough outs for most of their respective divisions.