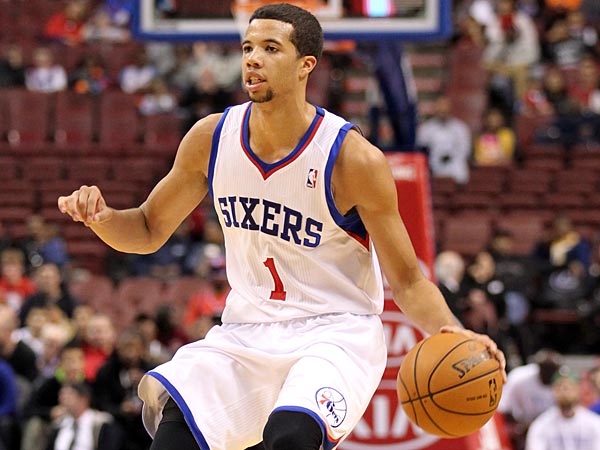 Tonight is a different kind of Thursday night. Usually, there are only two to three games, but tonight we have nine. Also, when looking at the match-ups, I have decided to do something I never do: load up on one game. While doing research, I came across this interesting statistic: the Philadelphia 76ers are allowing the most points since the 2009-10 Golden State Warriors. You just have to play guys against them. Since the team will constantly be allowing so many points, you also have to start players on Philly because they'll have to score to stay in the game. Tonight they play Sacramento, who is no defensive juggernaut, so I'm going to focus on that game. Enjoy.
So without further ado, here are the guys I will have in my lineup tonight and ones I will be throwing out from my list of possibilities. All prices are based on my favorite daily site (Draftkings).
Players I Love:
DeMarcus Cousins and Isaiah Thomas – $10,000 and $7,200 – Like I said, the Kings square off against the near record bad 76ers defense. For the year, Philadelphia allows the most fantasy points to opposing point guards and the fourth most to opposing centers. Cousins is such a physical presence that I doubt Spencer Hawes or Thaddeus Young will put up much resistance. Remember, the fantasy points are allowed to the position factors in every player they've played against. Most aren't all-world type talents like Cousins. Both these guys have been playing at All-Star levels recently, so they should look like Hall of Famers tonight against Philadelphia. Get them in there some way, somehow.
Michael Carter-Williams – $8,500 – On most nights, Carter-Williams is already one of the best options at PG in leagues where efficiency isn't taken into consideration. MCW rebounds, assists and steals at an excellent rate so he usually is worth the price. Tonight, add into the fact that Sacramento allows the third most fantasy points to opposing PGs. Neither of these teams play any defense so this should definitely be a high scoring affair. There are clear skies ahead tonight for MCW, so don't leave him in the dark depths of the free agent pool.
Anderson Varejao – $5,800 – With no Andrew Bynum, Varejao immediately resorts back to a double-double threat every night. The other nice part of Andy's game is the fact he adds in about a steal and a block per game according to his career numbers. If you can get 10/10/1/1, that's 26.5 fantasy points. If the goal is 300 fantasy points for a night, we want 34.5 points from a $5800 player. Well the added kicker is that starting center Nikola Vucevic is a game-time decision and won't be 100% even if he plays. Therefore, Varejao's ceiling for the night goes up and we could see closer to 15/15. Play him.
Players I Won't Use:
Kevin Durant – $10,700 – Brooklyn is a top seven defense against opposing small forwards. Durant is an absolute beast and still get his but his price is outrageous. For $10,700, if the goal is 300 fantasy points, he needs to put up 64.2 fantasy points. I think this game is going to be a blow out so Durant will most likely play three quarters at the most. If you want to spend big on someone tonight, make it LeBron or DeMarcus Cousins (or both).
Any Boston Celtics besides Jeff Green – Their big men rotate having big games and their guards are as difficult to predict. Literally the only position that the Bulls don't defend well is the small forward position. I actually would have reservations using Green too because those numbers are skewed for the season due to the fact that Luol Deng has been injured. Tom Thibodeau's teams are built on defense, and add that to how unpredictable the Celtics are, and you have yourself a recipe to avoid.
If you have any further questions, feel free to hit me up on Twitter @RSandersFR.