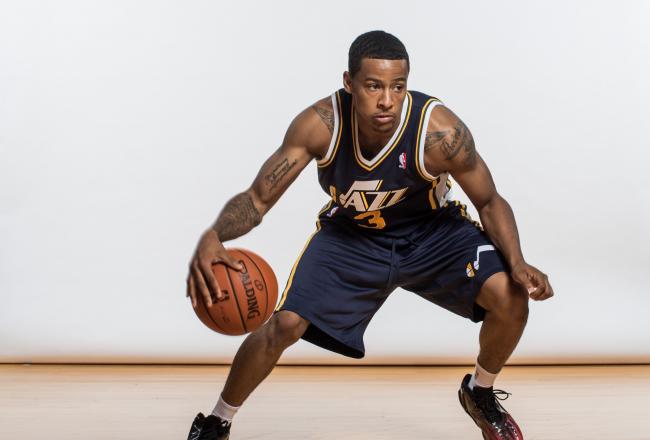 Nine exciting games on NBA slate tonight. Only one of the nine games have a double digit spread. Expect another night of close competitive games. In the world of fantasy basketball, you want close games so your key players don't sit during blowouts. So when I see only one double digit spread, I know my key players will be playing quality minutes tonight. Remember what the fantasy preacher has been preaching? To win in daily fantasy leagues on a consistent basis you must find some key value players to stack around your stud players. Although this article is about 3 top starts and 3 players you want to run away from tonight, some potential great value players to tonight are Amir Johnson, Giannis Antetokounmpo, Nick Young, JJ Barea, Xavier Henry, Andrew Bynum, and Brandon Wright. Keep in mind these value players could potentially get you around 30 plus fantasy points tonight while saving you a ton of money. With your savings you can stack several studs like James, Love, George, and Cousins on your team.
Friday night is the start of the weekend, so what better way to start the weekend than having your pockets full of vitamin C / AKA Cash? With my concept of finding value players and surrounding them with studs, I expect Friday night to kick off the weekend in grand fashion. Tonight's start and sits will help us keep smiling all weekend. All prices listed are according to DraftStreet $100,000 salary daily leagues.
Players To Start:
Deron Williams – $16,140-  Deron has been on quite the roll lately. Over last three games, he is averaging almost 38 fantasy points a game. Against Philadelphia he is averaging 19 PPG, 9 APG, 5 RPG, and 1 SPG. Furthermore,  Philadelphia is the worst team in the league against point guards. D Will will be a D-light tonight.
Trey Burke – $11,780 – Trey has been on fire lately for a very bad team. Over last seven games heis averaging 17 PPG, 5 RPG, 8 APG, and two three pointers a game. This past Wednesday night Trey had his best game of season: 30 points, 8 assists,  7 rebounds,  1 steal, and four three pointers in 40 minutes of playing time.  The fantasy preacher is telling you Trey could be the sleeper of the night. Great value and a player hot like a pistol only means good things for your team tonight. If you start Trey you will be shouting "hip hip Trey" tonight.
Brandon Jennings – $14,989 – Brandon is another player on fire. Over last three games he is averaging almost 46 fantasy points a game. Against Charlotte he is averaging 20 PPG, 7 APG, 5 RPG, and 2 SPG. With Brandon, you're getting one of the hottest players at a great price. Expect Brandon to tame the Bobcats tonight.
Players To Sit:
Terrance Jones – $10,661 – Terrance is averaging a terrible 7 PPG, 1 APG, 5 RPG on the road this season which is 6 points less, 1 assist less, 3 rebounds less, 1 steal less, and 3 blocks less then he averages at home this season. Now he plays one of the best defensive teams in the league tonight.  Don't let his low price fool you. Leave Jones on your bench tonight.
Josh McRoberts- $11,316 – Josh is averaging a pathetic 7 PPG, 2 APG,  and 5 RPG against Detroit. Furthermore,  his away numbers stink as well. He is averaging 10 PPG,  3 APG,  and 5 RPG away from home. To some Josh might seem like a good option based on his price. I would say to them, "Stop Joshing me." Let his butt collect splinters from the bench tonight.
Shawn Marion – $10,784 – Shawn is another reasonable price player that really not playing well. He is averaging a poor 12 PPG,  2 APG, 8 RPG on the road this season. If you like around 25 fantasy points from an average player at best, Shawn is your man. There are much better options with similar price tonight.