Takeaways From UFC Fight Night Gustafsson Vs. Manuwa
Gustafsson On A Collision Course With Jones-
Prepare fans; Alexander Gustafsson has punched his ticket for a title rematch with Jon Jones (provided of course the champion gets by dangerous Brazilian Glover Teixeira this upcoming April). "The Mauler" displayed a well-rounded MMA game while taking care of the previously undefeated Jimi Manuwa in just about seven minutes. In the first round he put the heavy-handed Britt on his back for a majority of the opening five minutes, in the second however he ended the contest violently. Gustafsson hurt Jimi with a solid knee strike up the middle before finishing him off with hammer fists. When Alexander got on the microphone he made it very clear to Jones his eyes are set on his title belt. What we can really take away from this past Saturday night is that Alexander can handle all the new fame that has accompanied him after just missing out on upsetting Jones this past September. On paper Alexander had to go into Manuwa's home country, and blow him out of the water to prove he was ready for another shot at Jones. That is precisely what the towering Swede did. He dominated and proved that he is head and shoulders above a special talent like Jimi. At this point considering Alexander anything less than a top three 205 pounder is just silly. In the post fight conference, UFC President Dana White was gushing over "The Mauler."
"[Alexander] is the biggest star over here, and he's only going to get bigger" White told reporters. "After the fight with Jones, Gustafsson has become a major star in Europe, and the USA, and we now have a nasty rematch."
He isn't exaggerating. Take into account heading into his initial title shot most fans didn't even know why he was being "sacrificed" to the champ. This was despite coming off an impressive win over MMA legend Mauricio "Shogun" Rua televised nationally on FOX. After his legendary clash with Jones, not only did fans know who he was, he became a star in MMA circles. You don't have to look any further than him winning the EA sports UFC video game cover contest. He beat out stars and champions like Georges St-Pierre, Anthony Pettis, Ronda Rousey, Chael Sonnen, Urijah Faber, and Benson Henderson to name a few. I for one am pumped he won in such a definitive matter because now us fans will be treated to Jones Vs. Gustafsson 2, except this time the Swede won't be sneaking up on anyone. With all due respect to Gilbert Melendez Vs. Anthony Pettis, Chris Weidman Vs. Vitor Belfort, and Ronda Rousey Vs. "Cyborg" Justino, Jones Vs. Gustafsson 2 is the fight of the year for 2014.  Now let's just hope Jones takes care of business in April. Sorry for rooting against you Glover.
Johnson Crashes The Top 10 About As Quietly As Possible-
To be fair it isn't entirely Johnson's fault that he didn't have a more defining performance Saturday Night. Despite being placed in the co-main event slot opposite Melvin Guillard, the fight was a dud. Which was surprising considering Melvin engaged Johnson in trash talk the days leading up to the fight. Melvin just didn't seem to want to engage him and deliver the fireworks both fighters promised leading up to the bout. To Michael's credit, he was clearly the aggressor and was obviously the winner. So this isn't all bad news. He did miss an opportunity however to really break out and let the rest of the division and UFC know he was a legit contender for the Lightweight title Dana White had some harsh words for Melvin after the fight, so I don't think the UFC brass is holding much against Johnson. Either way I don't think Johnson will get that marquee top 10 opponent he was initially looking for with a win over Guillard. Regardless of the dull nature of his victory, the bottom line is Johnson just beat Guillard, Gleison Tibau, and Joe Lauzon in consecutive bouts. "The Menace" is getting hard to overlook at 155 pounds.
Brad Pickett: Instant Flyweight Contender-
Anyone who read my preview to this event knows I am a big supporter of "One Punch," I mean how could you not be? The guy is a well-rounded mixed martial artist who always leaves it all in the cage.hat being said, I don't know how I feel about how Brad will fare at 125 pounds. He said he felt great cutting the weight, but he didn't look to have the speed needed to compete at the lightest weight class in the UFC. No disrespect to Neil Seery, but he isn't an elite Flyweight and Pickett had his struggles with Seery.  I think Pickett will be moved along pretty quickly at 125 pounds because he is a marketable opponent for the champion Demetrious Johnson. Let's also not forget he defeated the champion at 135 pounds in 2010.  I just don't know how well Pickett would fare against the rest of the top five of the division, so who they match Brad up with next will be of very important interest to me. Either way Pickett won his debut, which was a very important step one. In a division sorely lacking name recognition, Pickett is in the driver's seat for a Flyweight title shot.
Let Me Reintroduce You To Gunnar Nelson-
Ok, ok I'll admit maybe I was too harsh on Nelson during my event preview. I admit I was wrong, he might very well be BETTER than advertised. I lost a little of my faith in him after Jorge Santiago wobbled the Iceland native twice during their 2013 fight, and I may have jumped off the bandwagon to early. Well move over, I'm jumping back on. Gunnar was flawless this past Saturday when he submitted the tough and composed Omari Akhmedov. Saying that he just submitted him is selling Gunnar short, so maybe I should specify that the fight only went to the mat after he dropped Omari with a powerful straight left. From there he did what we knew Nelson could do, dominate with his grappling. He moved to mount where despite Akhmedov's best efforts he would remain for most of the round as he bounced Omari's head off the mat with vicious elbows. Eventually when Omari saw daylight he attempted to get to his feet, only to be corralled in a Nelson guillotine choke where he was forced to tap out. I wrote that Nelson needed a statement win possibly more than anyone else on the card to remind fans why he was supposed to be a big deal. Well needless to say mission accomplished Gunnar. I remember now just why us fans, and more importantly the rest of the Welterweight division should take notice.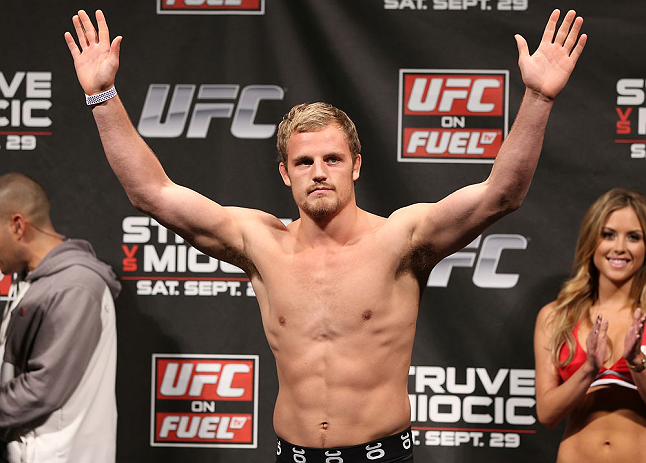 Matches To Make-
Alexander Gustafsson Vs. Jon Jones 2
Unless you've been living under a rock since September, or you're on the completely wrong webpage, this one is pretty obvious. I won't waste any more time explaining why the UFC needs to make this fight.
Michael Johnson Vs. Winner of Donald Cerrone Vs. Edson Barboza at UFC on FOX 9-
Michael Johnson has now picked up three consecutive wins over fighters who have been staples of the 155-pound division for the last five years. Oh and he did it in just the past seven months. So maybe putting him on the shelf for the next month might be a good thing for "The Menace," so he doesn't burn himself out.  When he returns he should be matched up against the winner of an upcoming clash between Donald Cerrone and Edson Barboza, who meet on the main card of April's FOX card. Either Barboza or Cerrone offer Johnson two different things. The first is a chance to add another quality name to his record. The second is both men will oblige him in a stand up affair. After beating Melvin on Saturday, he told Dan Hardy he believes he has the best stand up in the division, and I'm sure both Cerrone and Barboza would beg to differ.
Brad Pickett Vs. Zach Makovsky-
Like I said above, the UFC has to be very careful whom they match Pickett up with if they do want him to compete for the Flyweight title in 2014. If were going down the rankings logically, I think a match up with Zach Makovsky is the best title eliminator possible at the moment. Ali Bagautinov is probably up next for reigning Flyweight champion Demetrious Johnson. I say have Pickett and Zach fight to see who is up next for the winner. The issue is that Zach is a very tough fighter who may be to fast for Brad, so the chances of him derailing the match up are very possible. When you take into account that Zach is a former Bellator 135-pound champion, I don't think the UFC is in a rush to make him the number one contender. Would you want the former champion of a rival promotion just come into your promotion and steam roll his way to the top? I think it is very likely the UFC gives Pickett someone like John Moraga next so Pickett can have an easier time getting to that title fight against "Mighty Mouse."  If this wasn't a business and just a sport, I say Makovsky Vs. Pickett makes the most sense.
Gunnar Nelson Vs. Jason High-
While I was clearly impressed with Nelson, I think it's important to remember he is only 25 years old. I don't think he needs to fight anyone in the top 15 just yet. I say one more fight before taking a significant step up in competition. Enter Jason High.High has been around for a long time and is a respected veteran, and just outside the top 15-top 20. Nelson has stated that he wants to compete in the upcoming Dublin card, and I think him Vs. Jason High is an obvious main card bout for that event. I hope the UFC doesn't give him someone to highly ranked, to soon. We have a special talent here with Nelson, let's not rush him to the top.