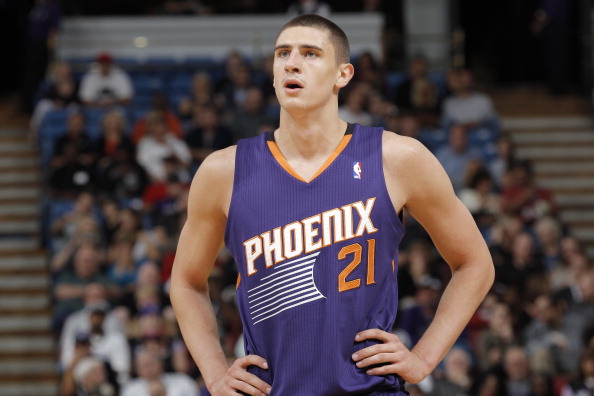 So I just flew in from the Bahamas, and boy are my arms killing me….thank you, thank you.  Okay, okay, sorry about that.  To the task at hand.  It's the usual quiet night in the NBA world but there are three games to look at, each with pretty high totals from our friends in Vegas.  The Clippers and Lakers are doing battle, with the Lakers serving as the home team.  The O/U there is 224.5 !!!  So you can expect some big games, just have to wonder if the Lakers can keep it close for the Clips big guns to stay in the game long enough.   OKC travels to Phoenix for a meeting with the Suns, a high total of 218 meets us there.  The lowest game of the three is the Miami at San Antonio match up, with an O/U of 206.5   So, basically all three games are expecting some pretty big games.
Let's take a look at some player selections tonight
(* the salary's I use come from draft street)
THE TOP CHOICES:
F- Kevin Durant ($23,890) vs F- LeBron James ($22,920)- The top two options on the board are going to cost you over 20% of your cap.  I'd lean KD tonight if I had to, but personally I am staying away from both.
C- DeAndre Jordan ($17,415) and C- Pau Gasol, ($17,295)- Unless you are going to punt center (see later on), these are the only two options to go.  I like Pau just a bit more tonight with his ability to score in a game that should see big numbers.
MIDDLE OF THE ROAD
G- Darren Collison ($10,361)- With JJ Reddick out and Jamal Crawford likely out, Collison should get another start alongside CP3.  He's averaged over 32 minutes, with over 17 points and close to 5 assists with 2 steals per in his last three games.  He seems to be playing better in the same backcourt with Chris Paul.  The crazy high total means there should be plenty of points to go around for the Clips tonight.
G- Jordan Farmar, ($11,068)- A little disappointing that Kendall Marshall will draw another start tonight, but Farmar should still see his bulk of minutes.  He has a 30 point game and a 20 point, 8 assist effort in two of his last three outings.
F- Matt Barnes, ($11,999)- Over his last five games, Barnes has averaged close to 18 points and 5 boards to go along with a steal + block, while logging close to 33 minutes of court time.  The high scoring affair with the Lakers has been mentioned before.  Jared Dudley may sit this one out which means Barnes could see a little extra PT, although those minutes could go to Danny Granger.
G- Gerald Green, ($11,649)- The Suns are going to need to score to keep up with OKC tonight, and one thing Green does very well is just that, score.  He already has a 33 point game under his belt this month, and is close to 20 PPG over his last five.  May have extra motivation with Eric Bledsoe due back soon.
CHEAPSKATES
C- Alex Len, ($6,236)- One of the punt options mentioned earlier, Len will see another start tonight in place of Miles Plumlee.  He had 6 points and 6 boards in just 19 minutes of action in his first start Tuesday night.  Hopefully he will see a few more minutes and add to those totals along with a block or two.
F/G- Perry Jones III ($6,656)- Jones should see another start at SG tonight for the Thunder.  Had a productive 29 minutes on Tuesday, albeit was against Philly, where he scored 12 points, grabbed 6 boards, dished out 3 assists, and blocked 2 shots.  He could put up some decent numbers again tonight, and makes for a GPP play.
Any questions or comments, please give me a follow @bsteinhause and @fakeroundball.
Good luck tonight!