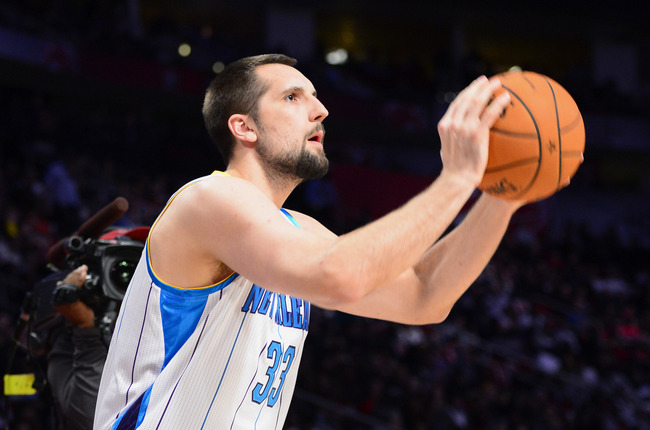 Ahh, nothing like a new week beginning in weekly fantasy basketball. Whether you won or lost, you get a chance to wipe the slate clean and start anew. You don't ever quite experience the same feeling in daily basketball because everyday is basically a new week. Daily is probably more exciting but I highly recommend participating in both. As much as I love writing these daily articles, there's nothing like year long competition amongst you and your friends/co-workers/family/acquaintances.
We've focused mostly on daily articles on FakeRoundball, as this article will eventually also, but I wanted to suggest that all try out yearly leagues also. I am constantly taking questions on twitter in regards to yearly leagues and will be incorporating more and more questions into my articles in the coming weeks. While guys like Tony Snell and E'Twaun Moore may come into consideration in daily leagues for cheap, you would never even consider them in yearly. There is an equal amount of strategy in yearly and it gives it more of a true fantasy feeling playing against set, drafted rosters instead of salary caps.
Alright I won't bore you any longer. If you need any more information or have any questions on yearly leagues, shoot them to me @RSandersFR on twitter. Moving on, let's get to today's action! Here are the guys I will have in my lineup tonight and ones I will be throwing out from my list of possibilities. All prices are based on my favorite daily site (Draftkings).
Players I Love:
Jrue Holiday- $8,000 – The Chicago Bulls are an absolute mess right now. For the year, they allow the 4th least amount of points of any team per game to opponents (92.1). However, losing their superstar Derrick Rose yet again has sent them in an absolute tail spin. They have lost 5 of their last 6 and are allowing 96.8 PPG during that span. For the season, they also allow the 3rd highest opposing 3P% of any team (39.2%). As you probably have heard by now, Anthony Davis is out indefinitely with a fractured hand. Therefore, others will have to step up in the scoring category to make up for his loss. Holiday is a prime candidate to up his scoring and he has actually been a fantasy beast lately anyways. He is averaging 34.2 fantasy points per game (FPPG) so far this season and 41.8 FPPG in the last 10 days. The loss of Davis could mean a few less assists but I expect everything else to approach his numbers from last year. Start him tonight with confidence.
Ryan Anderson – $6,600 – Did I mention Chicago allows the 3rd highest opponent 3P%? Ryan Anderson is arguably the best, but definitely in the top two, of NBA three point shooters. He led the NBA in 2011 and finished second in 3PM last season so there really isn't much of an argument against his elite shooting. Did I also mention that Anthony Davis was out? Last night, in the game that Davis went down, Anderson took advantage the tune of 31 points with 7 3PM. According to Bovada.lv, which is basically Vegas set lines but on an off-shore website (because of U.S. Sports betting laws), Anderson's over/under for points tonight is 19.5……….and the over is the favorite. In terms of rebounds, the line is set at 6.5. If you can get 20 and 7 from a $6,600 player, that's an absolute steal.
Joakim Noah – $6,500 – Strangely enough, I'm going to pound the game with the lowest over/under tonight. All the lines tonight are virtually the same besides the Houston/Utah game which hasn't been announced yet. Chicago/New Orleans' O/U is 192 while the others are 195 (Orlando/Washington), 198 (Atlanta/San Antonio) and 192 (Indiana/Portland). Since all the games are within 6 points, it really isn't that big of a deal. This is the game I have the best beat on so I'm going to stick with it. With no Davis, the Pelicans really aren't very strong of a rebounding team. They are dead smack in the middle of rebounding differential at 15th overall with a +/- of 0.8 per game……and that was with Davis. Without him, Noah is likely to gobble up just about everything; he was 8th in the NBA in offensive rebounds last season. Since 2008, Noah has been in the top 6 of offensive rebound percentage 4 times. Oh by the way, he's one of the best passing big men in the league and averages just about a STL and 2 BLK per game for his career. Love his upside.
Players I Won't Use:
Dwight Howard – $9,200 – Every other player around his price range averages 40+ FPPG. Howard is at a measly 39.4, compared to say, John Wall's 43. Sure, Utah is pretty terrible, but that means it could be a blowout. Lack of prior production + fear of an uncompetitive game = recipe for disaster.
Damian Lillard – $8,200 – Has a tendency to go cold shooting sometimes. With that being said, he faces the #1 defense in the NBA tonight. Yes, the Pacers have a tendency to make you go and stay cold all game. Would be surprised if Lillard gets to his season average in FG% tonight (39.5%) which is already miserably. As the second most expensive point guard of the night, I have to say, "no thanks."